We seek to engage the participation of 100 citizens in each country, representatives of different social groups, considering gender, age, educational level, ethnic minorities, people with physical impairments, and professional careers.
Citizens don't need to have any previous knowledge in any of the topics. The main objective of this activity is for citizens to contribute improving the way scientific information arrives to society. We want to know YOUR opinions, questions, doubts and experiences. Therefore, all volunteers are welcome!
In Autumn 2019 our project will hold the Concise citizen dialogues in order to gather the testimonies of five hundred EU citizens regarding questions such us: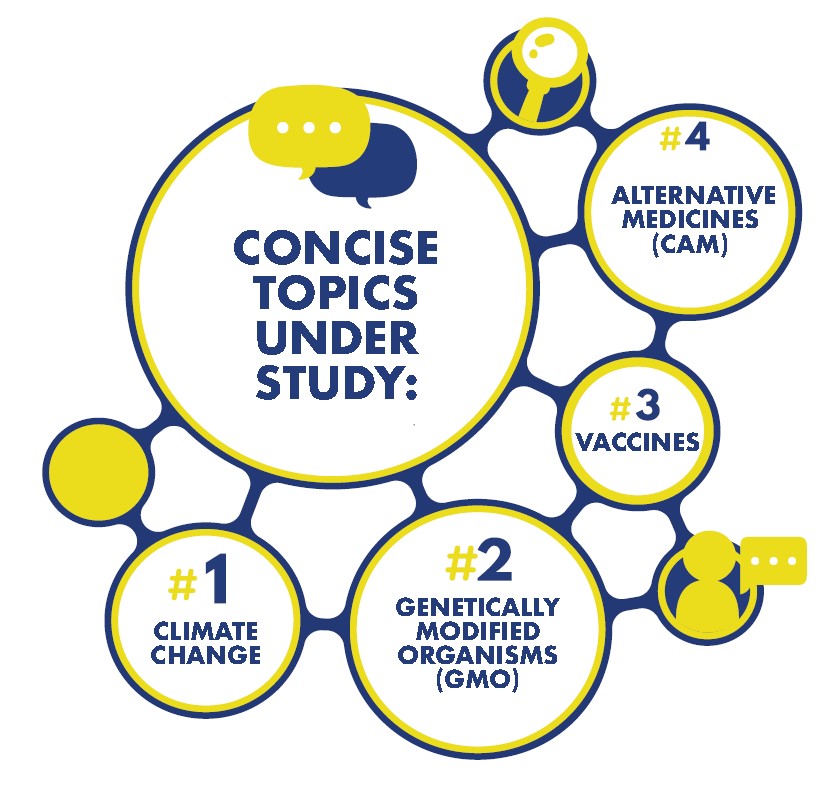 what information sources do citizens use to access science information? what is their credibility?
how do individuals form opinions and make decisions that relate to science (e.g. vaccination)?
are current media and institutional science communication efforts perceived by the public?
The project will focus on four scientific topics: vaccines, climate change, alternative and complementary medicines and genetically modified foods.
Project Concise proposes a participatory approach for gathering testimonies, whereby citizens of different backgrounds, ages, gender, social groups, etc. will meet in small groups to share opinions on the topics under study.
SAVE THE DATE of the Concise citizen dialogues in:
VICENZA (Italy) – 14th of September 2019
ŁÓDŹ (Poland) – 21st of September 2019
TRNAVA (Slovakia) – 19th of October 2019
VALENCIA (Spain) – 26th of October 2019
LISBON (Portugal) – 16th of November 2019
More information and registration forms will be available soon at www.concise-h2020.eu.
Please also follow us on https://twitter.com/ConciseEU and https://www.facebook.com/ConciseEU to never miss news and announcements from the project media team.